Instant Stain Remover By Fiberlock
8317-1-C4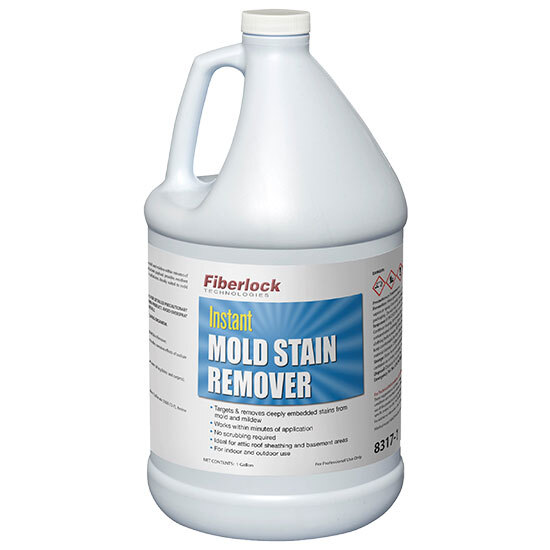 Instant Mold Stain Remover is designed to clean stains from mold and mildew within minutes of application, by instantly targeting deeply-embedded mold stains, saving the applicator time and labor.
Features
Works on wood and concrete substrates
Ideally suited to mold stained attic sheathing and basement areas
Targets and removes deeply embedded stains from mold and mildew*
Works within minutes of application
No scrubbing required
For indoor and outdoor use
*No claim is made by this product to prevent, destroy, repel or mitigate any living organism.
How to Use
PRODUCT APPLICATION
Substrate should be cleaned of all gross filth and grime prior to application of Instant Mold Stain Remover.
Apply undiluted for maximum stain removal. Apply with a pump sprayer that is resistant to the corrosive effects of sodium hypochlorite.
Coverage is 200-500 sq. ft. per gallon depending on substrate porosity.
Contain and remove all excess overspray and drippings to avoid bleaching of non-target material (e.g. fabric and carpets).
Multiple applications may be required on heavily stained material.
Rinse well and air dry.