Flir E4 IR Camera with WIFI
FL63901-0101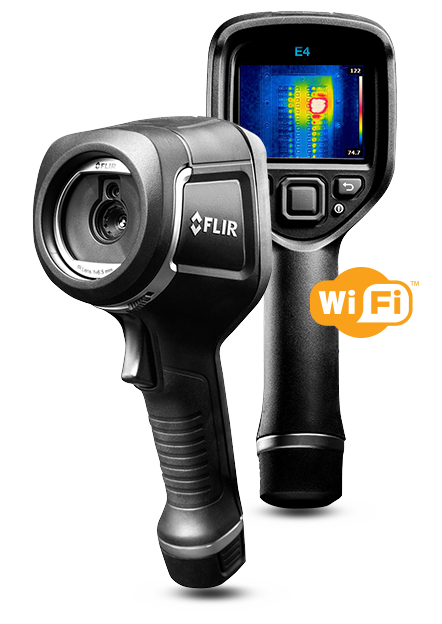 FLIR
E4
™
Infrared Camera with MSX® & WiFi
Now you can afford the ultimate inspection tool. Gain the competitive advantage and take care of more customers. Blow them away with dramatic MSX thermal images that clearly reveal problems from sources of energy loss, moisture intrusion and structural issues to overheating electrical and mechanical equipment.
---
MSX® Thermal Image Enhancement
MSX adds key details from the onboard visible light camera to the entire infrared image in real time. The result: an all-in-one thermal picture with numbers, labels, and other structural features intact so you'll instantly recognize where the heat issue is.
---
Affordable Resolution Choices
From the 4800-pixel thermal image clarity of the E4 to the E8's incredible 320×240 detector with 76,800 pixels, new FLIR Ex-Series cameras offer a resolution to fit the target size, working distance, and detail required for your application as well as your budget.
Compare camera resolutions
---
The Power of One Button
A focus-free lens and simple button navigation to on-screen settings, imaging modes, measurement tools, and saved JPEGS make all four of these cameras amazingly easy to operate, even with just the press of a single gloved thumb.
Explore the FLIR E4
---
Removable Battery
Quick-release, tool-type Li-ion battery is easy to remove, recharge and snap back in. Charge in-camera or with the optional charging station to keep you up and running all day.
---
Fast Temperature Measurement Tools
The E4 on up feature an on-screen center spotmeter for measuring temperatures. The E5, E6, and E8 also give you an area box tool with an automatic hot or cold spot that hunts down temperature extremes. And the E6 and E8 provide a blue-below and red-above color alarm to quickly alert you to heat issues.
---
Multiple Imaging Modes
All Ex-Series cameras let you view thermal, visual, and MSX images and store them simultaneously for further analysis using FLIR Tools software. The E6 and E8 also offer Picture-in-Picture that inserts the thermal image over the visible photo as an extra documentation option.
Thermal Only
Thermal with MSX
Picture-in-Picture
---
Additional E4 , E5, E6 & E8 Features:


Temperature range from -4°F to 482°F (-20°C to 250°C)
Variable emissivity and reflected temperature parameters for detection accuracy
FLIR EX-SERIES FEATURES
Rechargeable Batteries
Quick-release battery is easy to remove, change, and recharge
Fast Download
Rapid image downloading via USB for sharing and documentation
Quick Reports
FLIR Tools software to analyze images and create convincing reports
Measurement Accuracy
Min/max area box for auto hot/cold readings plus variable emissivity and reflected temperature settings for reliable results
Fast Temperatures
Area box with auto hot and cold spot hunts down extremes in no time
Warranty
2 years coverage on the camera, 5 on batteries, and 10 on the detector
WHAT'S IN THE BOX
Thermal Camera
Hard Transport Case
USB Cable
Power Supply/Charger
Rechargeable Battery