FLIR EBX4 Camera (NEW!)
FL64501-0501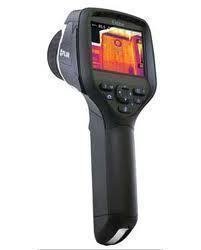 Flir E4 IR Camera with MSX
Advanced Thermal Imaging Camera Performance that Keeps Getting Better
Troubleshoot more efficiently, create detailed reports easier, and share images and findings faster with FLIR's latest E-Series thermal imagers. Featuring a fresh array of imaging, communication, and productivity tools to help you get more done in a day.
Wi-Fi & FLIR Tools Mobile Communication
Connect E-Series cameras to smartphones and tablets with our Wi-Fi app. Stream live thermal video so co-workers can watch along. Import radiometric JPEGs, adjust contrast and color, add more measurement tools, then package images in concise reports and email findings right from the field to expedite critical decisions. Learn more about the
FLIR Tools Mobile App
.
MSX Thermal Image Enhancement
Numbering, labels and other key features aren't always apparent in a regular thermal image, often requiring a separate photo for reference. Instead, MSX virtually etches those visual details onto the infrared image in real time to create an all-in-one, thermal picture that shows exactly where problems are heating up.
Simple Touchscreen Tools
With our latest Dark Precision touchscreen interface at your fingertips, you'll be able to instantly tap into multiple temperature measurement tools, image modes, archived JPEGs, and more so setting and getting it right is never a hassle.
Multiple Measurements
Add up to three box areas and three moveable spots using the touchscreen to gather more detailed temperature information.
Auto-Orientation
New auto screen orientation lets you switch between landscape and portrait view to optimize your field of view while keeping the temperature measurement overlays upright on the LCD no matter how you hold the camera.