BotaniClean Disinfectant, 5 gal pail
224003000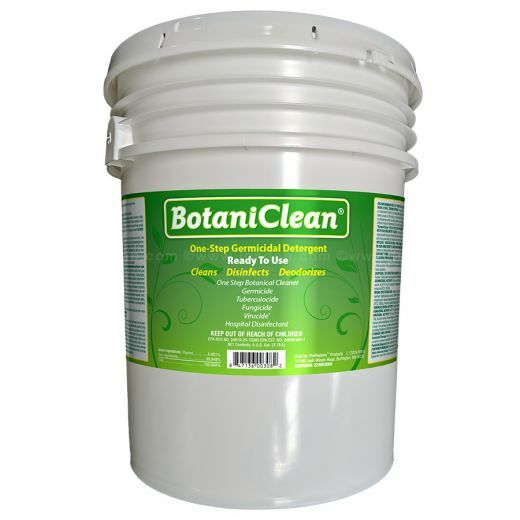 Description:
Use BotaniClean anywhere the hazards of contamination create risk. Featuring a unique, nature-inspired thymol blend, the product is EPA-registered as a Category IV low-toxicity disinfectant, requiring no warning labels and no PPE. This broad-spectrum antimicrobial is economical, ready-to-use and lets you clean, disinfect and deodorize – all in one easy step. And the product doesn't separate, helping to ensure consistent application every time.
BotaniClean has demonstrated effectiveness against viruses similar to SARS-CoV-2 (as the surrogate for COVID-19) under the current EPA Emerging Pathogens Standard, so is included on List N: Disinfectants for Use Against SARS-CoV-2 (listed under EPA no. 34810-25).

SPECIFICATIONS:
FORM : Liquid RTU
PH: 3.5 ±0.5
EPA REGISTRATION NO.: 34810-25-70385
XACTIMATE: WTRGRMB
***$5 per piece handling charge when shipping via UPS***


BotaniClean
Antimicrobial/cleaner made with a unique thymol blend
A new solution from the name you trust



Purely better - inspired by nature. Thymol produces a consistent product every time.



With new BotaniClean less is more!
No PPE required
Unique formulation - no extraneous oils for a consistent, effective product every time
Mild, pleasant fragrance without harsh fumes
EPA Category IV rating, which means no warning or danger labels required
Economical - lower cost to produce is passed on to you!
No additional rinsing or wiping required when disinfecting and deodorizing
For use on food contact surfaces when used as directed
Biodegradeable detergent
Ready-to-use convenience

BotaniClean kill-claims include:
Tuberculosis
MRSA
H1N1
HIV
Gram positive and gram negative microorganisms
And much more!

BotaniClean is a:
Germicide
Tuberculocide
Fungicide
Virucide
Broad-Spectrum hospital-grade disinfectant

...all in one unique formulation!