Advantage Citra-Gel 2.0
202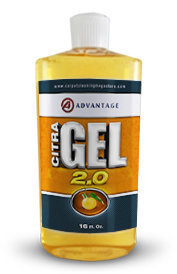 Advantage Citra-Gel 2.0 - pH: 9.0
Use to remove oil-based spots & stains such as tar, asphalt, grease, lipstick, crayon, gum, proteins, adhesive, and shoe polish. Leaves a pleasant orange fragrance. Use on carpet and hard surfaces.

Because of it's many uses, Advantage Citra-Gel 2.0 spotter is one of biggest sellers for the professional carpet cleaner.

Advantage Citra-Gel 2.0 can also be used around the home especially for spotting clothes. Citra-Gel works great at getting out those stubborn stains like, grass, grease, oils, makeup, etc.

Like all gels...this product needs to be thoroughly rinsed!
Bulk Discounts:4-15=10%; 16-35=15%; 48-143=20%; 144+= 30%